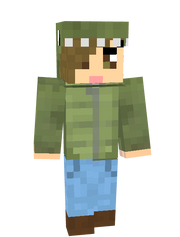 TheMayaSaurus
Edit
TheMayaSaurus is an active member of the Tumblrcrack server. She is also known as Maya, Mareep, Dinosaur Girl, and Mop's Girlfriend. Maya is in a relationship with fellow server member Mop3476. ITS CANON SUCK IT FABIAN. Maya is also on Buttcrack and was formerly on the Isle of Cake server where she pretended to be Punk's girlfriend for a day and on that day humanity recieved a grim reminder that you shouldn't borrow girlfriends. maya is hella swaggy. 
Relationships and Teams
Edit
Maya is dating Mop because why not. She is part of Team Head (now MAP), Team Jimmy Butt Skype Call, Team Subtext, Team Styromap, and Team Denny. 
Projects 
Edit
Maya has too many projects on the server.
CompletedEdit
Mini Mindcrack Land 
Tumblrcrack Uni 
Team Subtext HQ
Team Jimmy Butt Skype Call HQ (no one knows where it is)
Maya will not eat seafood, fish, or shellfish.
She is moderately allergic to walnuts.
Her favorite Pokemon are Mareep and Amaura.
Her favorite Mindcracker is Pyrao.
Maya owns a dinosaur costume, a birthday present from Mop3476.
She can do a drunk Nebris impression when sick.
Maya is insanely tall, 5'10, the same height as Econs311.
She plans on studying Computer Science in College.